"Vignettes of Life" is a compilation of short messages on Unveiling by Lynette Woods.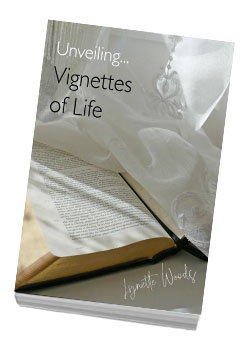 To download right click on the correct icon for your e-reader.
Epub is for iPads, iPhones, Kobo. Mobi is for the Kindle.
Contents:
Christ Alone
Being Subject to the Back-to-Front Kingdom
Christ or Religion?
In Christ
Paradoxology
Ten Commandments… but not as we've known them
Google Heaven
All
Chapter 1 – The Beginning of All
Chapter 2 – The Meaning of All
Chapter 3 – What Is the Ekklesia?
Chapter 4 – What is the Word of God?
Chapter 5 – What is Reality?
Chapter 6 – What is True Love?
Chapter 7 – Why is Unity Vital?
Chapter 8 – Why Were We Created?
Chapter 9 – What is the Purpose of Life?
Chapter 10 – The End